After a long day at school, I walked into my house and saw two big glossy-covered books sitting on our living room's table. "Oh, what are those gigantic things? Another heavy book?", I said to myself. My father used to have a tiny library in a drawer where he kept several thick and heavy books about politics, philosophy, and religion. Every time I cleaned the drawer, I would open some pages and give up just by looking at thousand lines of words inside.
But these two books had captivating pictures on the cover. I came closer to see more closely, and I could see a picture of a woman laughing between woven fabrics on one book's cover and a picture of people under a bridge on another book's cover. There's suddenly an urge to flick through the pages to see what they were about.
For the very first time, I was interested in a book other than The Famous Five, Three Investigators, The Secret Seven, and Bobo magazine. As I opened the pages, I could find more and more interesting pictures. My pure curiosity increasingly rose and started to read the captions. It took me to the other side of the world, outside my small hometown, Padangsidimpuan in North Sumatera Province. My imagination was flying to a place called East Nusa Tenggara where people made woven fabric with colourful and distinctive patterns, making me so much invested in the book. That place also had incredible landscapes and histories, all of which seemed different from my hometown. "Kain untuk Suami: Traditional Textiles of East Nusa Tenggara" was the title of the book, and this was the first dot of my journey to the eastern part of Indonesia. The other book was equally interesting, but I would talk about it in another story later.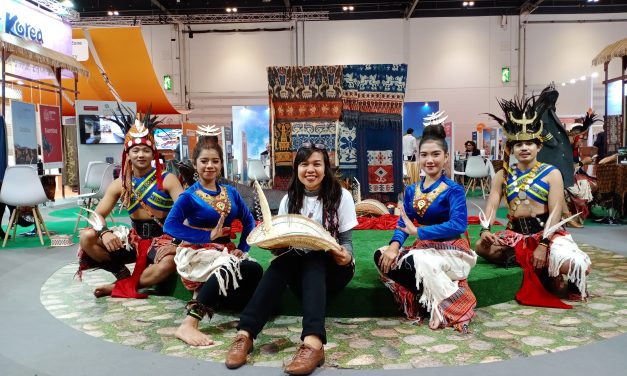 Fast forward 14 years later to 2019, I was studying for master's in London and surprisingly got the opportunity to volunteer for London World Travel Market at East Nusa Tenggara's booth as an usher. I was in charge in welcoming visitors to the booth and introducing tourist destinations in East Nusa Tenggara. Once again, I was mesmerised by the beauty of East Nusa Tenggara while doing the job for three days. It's like a déjà vu of me years ago reading and enjoying the story in "Kain untuk Suami" book, but this time talking about what's in the islands of East Nusa Tenggara created some kind of personal bond. Since then, I had always told whoever asked me about where I would go after my study that I wanted to go and work in East Nusa Tenggara. Funnily, I was just blindly in love with the idea without any specific reasons and job offers available yet at that moment.
Right after my master's, among all job applications and offers I decided to take the offer from Program Organisasi Penggerak Indonesia Mengajar, an organisation in collaboration with Ministry of Education and Culture, as a co-facilitator. Initially, I was assigned to work in an area in Sumatera, but somehow the world seemed to conspire to put me in Rote Ndao Regency, East Nusa Tenggara. This continued to the following year as I was posted there as a project manager to conduct teachers' training to improve students' literacy and numeracy to over 300 teachers and 25 school principals. If you are waiting for a happy ending, I think this one is for you.
Starting this year, I have started my journey as a project manager at Taman Bacaan Pelangi in Nagekeo Regency, East Nusa Tenggara. I guess the law of attraction does allow all the dots to continuously connect to one another. I am grateful that Taman Bacaan Pelangi has granted me the opportunity to live and work in East Nusa Tenggara. I am currently not blindly in love but genuinely in love with the idea of living and embarking a meaningful journey to improve students' literacy all across East Nusa Tenggara through child friendly libraries.