Hello, Rainbow Reading Gardens friends!
This time we have good news about an exciting collaboration between Rainbow Reading Gardens with Cerdas Digital Nusantara company, or what has been popularly known as CAKAP, in providing an online training in the eastern Indonesia.
CAKAP is an Indonesian platform offering skill improvement trainings ranging from language to vocational trainings. One of the programs offered by CAKAP is online English tutoring with interactive and two-way communication system supported by the advanced digital transformation happening in today's world. Looking at this positive trend, Rainbow Reading Gardens and CAKAP agreed to work together with to expand the interactive and communicative online learning experience to eastern Indonesia.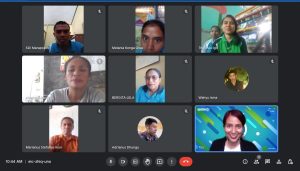 "We support this kind of program which brings benefits to teachers and students in the eastern part of Indonesia", Nila Tanzil, the founder of Rainbow Reading Gardens explained.
This collaboration was followed by several benefit recipients from Rainbow Reading Gardens, who were placed in different classes. General English class was dedicated to 13 Rainbow Reading Gardens' staff and 20 students of Girls' Scholarship awardees. Furthermore, CAKAP provided some webinars to 115 teachers coming from Rainbow Reading Gardens school partners from all across eastern part of Indonesia. This program was run from September 2022 to February 2023.

As shown by this following picture, the participants were having an English tutoring with a fun learning atmosphere. These participants not only Rainbow Reading Gardens staff but also teachers and students seemed to enjoy the virtual class.
Just as Helen Keller, a famous American author, once said, "Alone we can do so little; together we can do so much." We really hope that this supportive collaboration between CAKAP and Rainbow Reading Gardens can bring out significant and positive impacts in English skills developments of teachers, students, and the people of eastern Indonesia.