On February 21st, 2023 Rainbow Reading Gardens conducted a reflection meeting with all 66 school partners in collaboration with Room to Read and Nagekeo district government. This event was conducted online and attended by the head of Department of Education, school supervisors, school principals, teachers and librarians.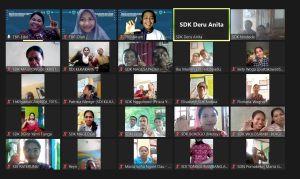 This monthly routine was held as a follow up after setting up child friendly libraries across Nagekeo district, which had been running in those school partners since last year. By holding this activity, all involved in the program could evaluate the progress based on the designated indicators and identify areas to improve. Also, good practices from school partners were shared throughout the meeting, and Reading Library Gardens displayed book checkout and library activities data in all schools partners from December 2022 to January 2023 to illustrate progress in numbers.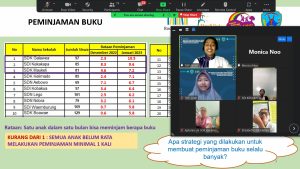 What is more interesting from this meeting is that some teachers and librarians were sharing stories about how libraries had started to show positive impacts and literacy innovations in their schools. For example, Bokogo Catholic School in Boawae subdistrict had been able to create wall magazines on which students posted their writings. While Waemburung school in Aesesa subdistrict had made a reading garden in their school yard, where students could sit comfortably and do reading activities. Another interesting story from Aesesa subdistrict comes from Lego school. They collaborated with all school communities to build a dream wall in front of their library and documented all library activities through photo collage.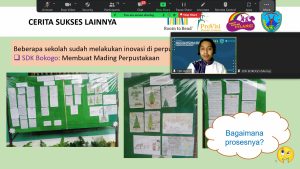 When delivering his welcoming speech, the head of Nagekeo's Department of Education mentioned, "To keep improving the quality of school libraries' management, we need to take further actions and make innovations. Through this reflection meeting, it is hoped that all teachers, librarians, and school principals can exchange knowledge and good practices especially on how to cope with challenges in managing a library. Thus, the quality of our students' literacy will develop."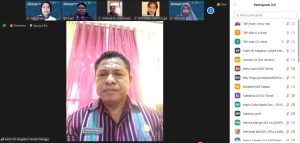 Before finishing the meeting, all teachers were asked to write their follow up actions in regards to managing their own library and innovation plans.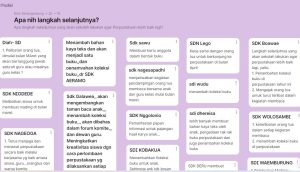 This meeting was so much fun and inspiring. Rainbow Reading Gardens is looking forward to seeing everyone in the following event and to keep working to develop student literacy together.