In collaboration with Rainbow Reading Gardens, CAKAP has provided an English course not only for our staff and Girls' Scholarship awardees but also the teachers from our school partners. These teachers were learning about General English and teaching strategies on how to conduct a fun learning by integrating technology in a series of teacher webinars.
The topic of the webinar was called Online Learning Theories as part of the teachers' continuous professional development to empower and improve their teaching skills. In order to work in line with the advanced technology, CAKAP incorporated tips and tricks in conducting an online learning in this digital era. Interestingly, this webinar also brought out more benefits sharpening their English skills through engaging topics in the webinars.
All of the teachers were quite enthusiastic in joining the webinars despite the issues with internet connection which was not always stable as what commonly happens in the eastern part of Indonesia. Another challenge is the limited knowledge about technology among the teacher, but nevertheless it didn't stop them to join and learn. Most of them mentioned that they were grateful to join this program since the webinar interactive and communicative in which CAKAP asked them to share ideas and experiences in teaching practices in class.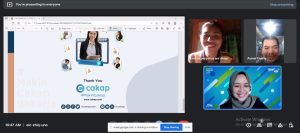 Mr Silvester Bea, the principal in one of our school partners in Nagekeo district, East Nusa Tenggara, explained that the webinar held every Saturday was effective and beneficial enough for him. He was also interested in joining to get to know other teachers from different schools and sharing classroom experiences. Through the webinars, he gained new knowledge about how to deal with students who have difficulties in learning. CAKAP facilitated this question and share good practices and strategies so that students have the courage, confident, and motivation to learn in class.
Another benefit mentioned by the teachers is the English class in which their English skills including reading, listening, speaking, and grammar skills were improved. These all were combined together with teaching method topics as mentioned earlier. This collaboration between CAKAP and Rainbow Reading Gardens is hoped to be a positive signal and to provide benefits for the teachers and students in East Indonesia area, especially in improving English skills and using technology.
Thanks to CAKAP, which has covered East Indonesia and facilitated teachers, students, and Rainbow Reading Gardens staff to be better.