This article is published on Rappler.com
Written by Zack Petersen
The kids at the poor island of Messah light up at the sight of a book, the same way we might stare in awe at a priceless painting. For them to have their own books, to go on an imaginative journey, to get them to dream big – this is why I decided to start Books for Messah.
In life we rarely take risks. We view problems as challenges, not opportunities. We bask in our comfort zone, knowing full well that great things never came from them. More often than not, we listen to that little voice in our head that thrives on negativity and cynicism, rather than listening to our friends, who offer encouragement and support.
Not this time.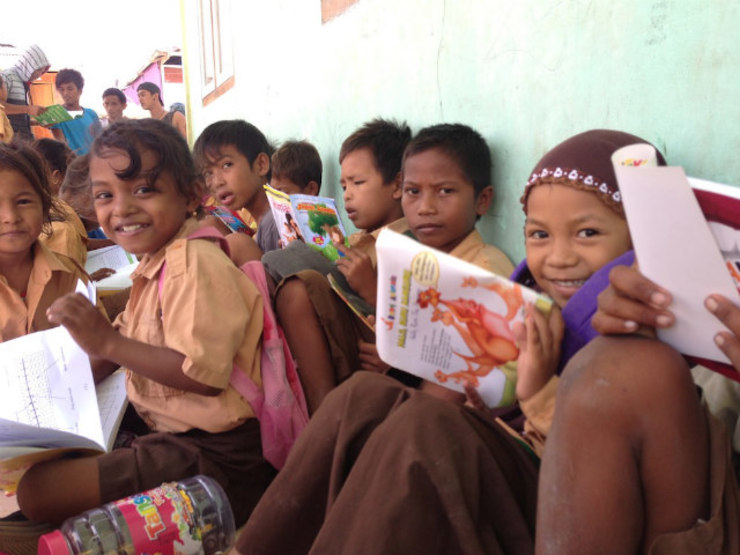 HUNGRY FOR BOOKS. The children of Messah Island reading books provided by Taman Bacaan Pelangi. Photos courtesy of Hanny Kusumawati and Nitara Nivatvongs Layton
The inspiration
The first time I ever gave away books to children in Messah – a sleepy fishing village on the fringes of the Komodo National Park in East Nusa Tenggara – I was blown away.
We were there to open Taman Bacaan Pelangi's 25th children's library. The beginning of the day played out like a movie: sunkissed kids ran to greet us at the dock, jumping in the water and swimming around our boat, before taking our hands and walking us through the village, yelling to their friends to come and join them at the library.
There are few feelings in this world more awe-inspiring and humbling than handing out books to children in places like Messah.
And they followed. Some kids left their footballs in dusty fields. A pair of girls abandoned a heated game of backyard chess. A 4-year old scurried out from behind their mother's skirt. All to come and read books for the day.
As soon as we started handing out the new books, it was pure mayhem. The kids didn't want to stand in line to wait for a book. They were thirsty little sponges waiting to soak up stories from around the world. They mobbed the team as we tore open the boxes of books we had collected and hauled from Jakarta. We couldn't hand out books fast enough. More than 50 kids between the ages of 4 and 15 were grabbing at the books as if they were bricks of gold.
It was loud and disarming. There was this cacophony of deafening chatter from all the kids pushing and jockeying to get a book.
And then, as fast as it started, it was over. And all that was left was a silent hum as the kids read their new books.
I'd never seen anything like it. Never.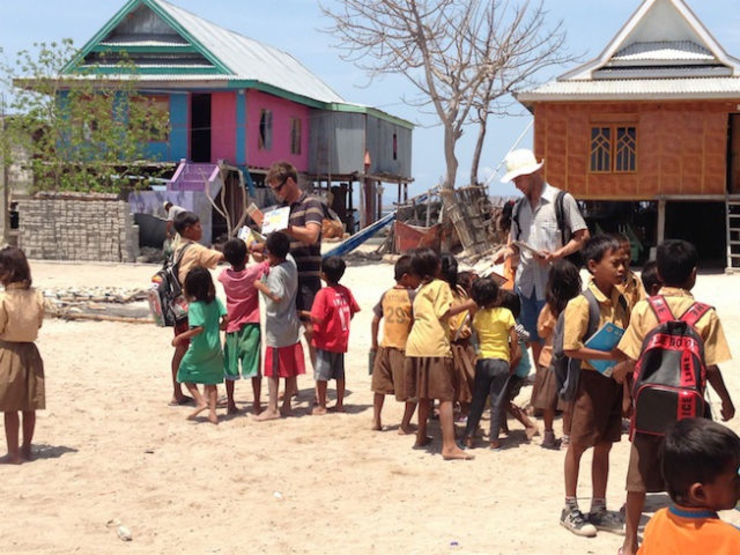 SURREAL EXPERIENCE. The writer, Zack, seen here during the first time he distributed books to children in Messah.
The challenge
Messah – one of the poorest islands in East Nusa Tenggara and which, from tip to tip, is about the size of a mall in Jakarta – is a blip on the screen. The village itself, home to some 1,000 families and twice as many kids, is calm and quiet. Most of the men on the island make a living fishing or catching lobsters for the hotels in the town of Labuhan Bajo, a 15-minute boat ride away.
Labujan Bajo is where most tourists stay when they want to explore the lozenge-blue waters of the Komodo National Park – home to manta rays, sharks, dolphins and some of the best diving spots in the world. Not to mention the famous Komodo dragons on the islands of Rinca and Komodo. But most of these tourists don't know or won't even hear of Messah.
But there are few feelings in this world more awe-inspiring and humbling than handing out books to children in places like Messah.
Books are a luxury here. The kids light up at the sight of a book, the same way we might stare in awe at a priceless painting or a street performer juggling fire. And for them to have their own books in their hands, to go on an imaginative journey if only for a few minutes, to get them to dream big, is why I decided to start books for Messah.
The bet
If we can raise IDR60 million ($4,900) in 30 days, we can help Taman Bacaan Pelangi sustain a year's worth of activities in Messah. We want to give the kids more than 4,500 titles to choose from. We want to paint a gigantic world map where people who visit the kids can point to their hometowns, everywhere from Paris to Pella, Iowa. We'll create and distribute teaching materials for local volunteers. We'll give stationery and colored pencils.
Have you ever witnessed a kid who has never seen a colored pencil before receive one? It's life-changing.
My wife, Nila Tanzil, the founder of Taman Bacaan Pelangi, is doubtful I can pull it off in just 30 days. She herself has started 29 libraries on 14 islands, bringing more than 40,000 books to the children of Eastern Indonesia, without any help from me. But if we can achieve our goal, it will hopefully take a bit of the burden off of Nila, so she can focus on their new libraries in Papua and Halmahera, while giving attention to their first ones, which will celebrate their 5th year anniversary this December.
And as much as the campaign is about the kids, it's also about creativity. I can't tell you how many times I have heard great ideas fade into the rear view mirror, simply because people were too afraid to take a shot. There are so many excuses, but I like to think that if it is important, you will find a way. If it's not, you'll find an excuse.
We're all going to die someday. The best thing to do with the time we have is to pack it full of as much creative and inspiring things as we can, while surrounding ourselves with people that will encourage and foster that creativity.
If we don't hit the IDR60 million mark before the 30 days is up, everyone gets their money back, no exceptions. And I'm cool with that. If we don't succeed with this campaign, we'll find another way to bring books to Messah. We'll learn from my mistakes and come back bigger and better. Because at the end of the day, that's what the kids would want.
We all know the road to success is paved with a thousand failures. But this doesn't have to be one of them.
Please support our cause and find out how we will use the IDR60 million at kitabisa.com.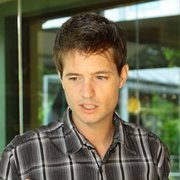 Originally from Iowa, Zack Petersen came to Indonesia because he watched too much Animal Planet as a kid. He currently resides in Jakarta, where he divides his time between writing, reading and volunteering. Follow him on Twitter at @HushPetersen