The sun shines so brightly and brings its warmth to a glorious morning in which you can see a teacher being busy managing books in a school library. He is Bertholomeus Seda, who is usually called Mr Arto. He is a graduate from Physical, Health, and Sport Education of Nusa Cendana University. In 2018, he decided to be a PE teacher at Padhapae school with a non-contract status.
Time went by really quickly, and there should be a change to his plan. In June 2022, a new PE teacher arrived in his school to take his role, which then led him to be the school's librarian. He found it very challenging since he didn't have the skills to manage a library. He was totally confused about how to manage library visit schedules, rules, administration book, book numbering, book displays accordingly.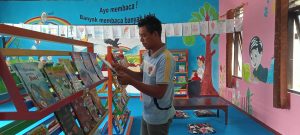 With strong determination and the support from his school's principal, he joined all workshops and trainings on library management held by Rainbow Reading Gardens. As a result, he has comprehended the concepts of child friendly libraries and poured this knowledge into practices. Also, his great enthusiasm to develop the students' literacy has led him to motivate all of the students to borrow books from the library. This consistency has been fruitful and brought about positive outcomes. Per January 2023, there have been over 1000 book checkouts in the library. He sometimes needs to go home late in order to allow students to visit the library and borrow books after school hours. What's more interesting is that Mr Arto contributes in supervising the fifth and sixth graders following reading activities when their homeroom teachers can't attend school or join trainings outside school.
"I am now enjoying this role as a librarian. Through this role, I even get motivated to read more and more books in the library", Mr Arto explained. He then mentioned about his high hope to improve Padhapae's students' literacy and said, "My hope is by having this library, students can visit the library more often and join the reading activities as well as borrow book to be read with their family at home. So then, their skills and comprehension on those books can get better in the future".